Are you ready to start? We are
Welcome!
This is a virtual place filled with projects, ideas, thoughts and lots of code... If you are here it's due to your research of something... you have already tried a lot of different softwares but none of them satisfies you completely.... you need something different, you don't need a solution, you are looking for YOUR solution.... good news: this is the place you were looking for!
Together we will realize that idea, yes, just that one, the only one which is EXACTLY what you are looking for: YOUR personal software.
Are you ready to exit the maze?
Our Services
Software Development
Our aim/objective is to develop and deliver the perfect solution for our Customers. To do so, we first listen to them carefully, to understand what their idea or needs are, and then finally we build and develop our product.
Software integration
A software is not usually made to share data with others. We create "bridges", able to activate this functionality.
Mobile app development
Do you need a specific mobile APP for your business? We can create it for you, both for Android or IOS system
Blockchain DAPP development
Are you looking for a business partner able to develop your brand new blockchain based software? Look no more, here we are, ready to create and realize your idea and make your DAPP real. Lets go!
User interface
We spend a lot of time (and brew litres of coffee!) studying the smartest user interface to implement our software programmes, in order to enhance customer experience.
customer in the center
Every project we develop has the same purpouse: customer satisfaction. We love our job, which was born out of our passion for excellence and a specific domain experience: every software we create has to be perfect and satisfy our customer's needs and expectations. And our Customer's satisfaction is the main achievement we pursue.
Some facts about us
0
Liters of coffee drank solving problems
0
Percentage of happy customers
We focus on our skills.
We know our core strengths, stick to our guns and hone our skills. Most Importantly, we stay focused.
Coding:
Design:
Singing:
Building:
Demolishing:
A message from our CEO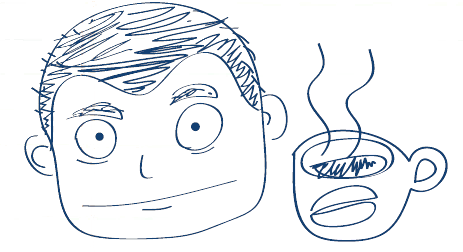 It doesn't exist a problem which can't be solved with a cup of coffee (it's just a matter of how many cups of coffee you have to drink before finding the solution)
Gian